Blog
February 7, 2022
How to Set Effective Individual OKRs for Team Success?
3 min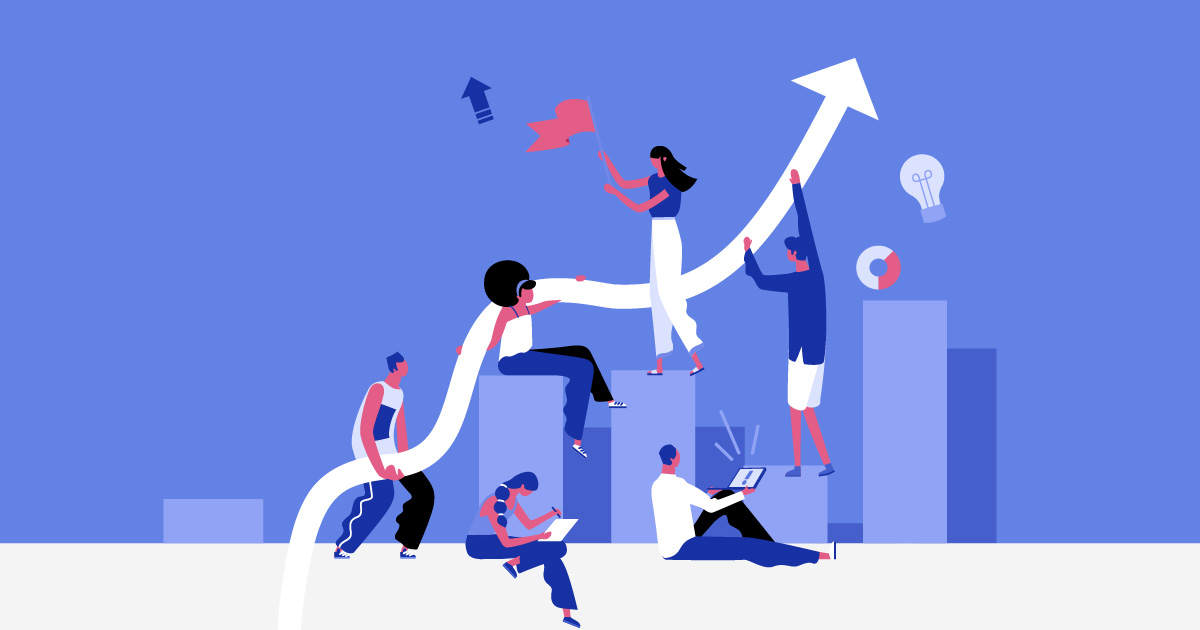 It is generally believed that using the OKR framework for setting individual OKRs results in laying out goals with random targets or unrelated metrics. People feel that individual OKRs do not help measure success on a team level. But, when set effectively, an individual's objectives and key results help drive success for your entire team. Individuals can plan for personal development goals and track progress towards them as time passes. As an individual attains progress in achieving his planned goals, he helps his team meet their targets, others acting as contributors in accomplishing that objective.
In this blog, we learn how individual OKRs are not just for personal development but also play a crucial role in achieving an organization's overall objectives.
What are Individual OKRs?
Individual OKRs are goals for an employee to evaluate success using metrics relevant to the person. Like company and team OKRs, individual or personal OKRs should be specific, measurable, time-bound, achievable, and based on the effect achieving them would have on the business. Let us take an example to understand this better. Suppose you are a marketing manager at a SaaS company; one of your Personal OKRs for the quarter would be:
Objective: Improve the website and increase conversions to boost business growth
Key Result 1: 7% rise in website visitors
Key Result 2: 10% increase in landing page conversions
Key Result 3: 100 MQLs from 40 MQLs increased
Ways to Set Individual OKRs
Managers should remember that individual OKRs with ambitious (or stretch) goals can push employees to learn new skills or tasks. When employees write their OKRs, encourage them to learn the potential benefits from their OKRs.
Here's how employees and managers can collaborate and set effective Individual Objectives and Key Results.
#Set Performance Objectives that Align Learning with Business
Looking past your organization's immediate priorities for the quarter to explore its 3-5 year strategy may help planning for the right personal OKRs. Outline tangible benefits of individual OKRs to both the company and the individual, wherein the individual should have ownership over the objective. An individual can thus nail the value of their OKRs for their learning and development. Managers can also explain the value of company OKRs and help employees define the purpose of each objective and key result they've set. They should enable employees to identify how their individual OKRs contribute to the business.
One of the Company OKR Examples can be:
Objective: Delight enterprise customers to bring success to the enterprise
Key Results
25 Net Promoter Score(NPS) achieved
50% increase in customer retention rate
5% customer churn reduced from 10%
Companies can use employee goal-setting OKR software to manage these business goals and priorities with utmost transparency. OKR tool makes it more convenient for leaders and team members to see company-wide and individual OKRs and track if everyone is aligned with the company's mission and vision.
#Determine the Traits and Skills Driving Results
Individual OKRs with ambitious goals can motivate employees to develop a new skill or take on new initiatives. Ideally, employees should collaborate with managers to determine the skills and traits needed to drive business results. Consider your organization's workforce plan and talent strategy before setting OKRs for personal development that align well with more significant strategic imperatives.
A customer success executive could improve his communication skills by taking up a specific course if one of the key results of the sales team is to increase the customer retention rate by 50%.
Besides, suppose you are in the engineering team, and your company is planning to launch a new product in the next quarter. In that case, your individual OKR could be learning how to implement the latest automation tool to run the new process on 50% of the codebase.
#Aspire for one Aspirational OKR Every Quarter
Remember, unlike committed OKRs, aspirational OKRs look at a larger picture, considering organizational goals simultaneously. They often connect individuals to a bigger purpose, which is why your employees should have one aspirational OKR per quarter. Though aspirational OKRs are realistic, they don't confine to a time frame. You can move them from one quarter to the other.
Personal Aspirational OKR Example
Objective: Enrich our thought leadership in the market to become the top knowledge source for leaders new to OKRs
Key Result 1: 100% of OKR/Leadership Academy designed
Key Result 2: 6 marketing events' to be participated in
Key Result 3: 100% of an Unlock:OKR tool Basics video training completed
#Targeted Outcome
As individuals initiate and implement tasks to accomplish an objective, the outcome must center around specific, targeted learning. Achieving your OKR might call for taking on a new responsibility within the team or leading your team in a daily huddle. Remember, when your OKR aims at personal learning and development, it is categorized as an aspirational goal.
To maximize your employees' learning and development, encourage them to set OKRs that expose them to tasks or roles of their interest. They will possibly be more motivated and curious this way, producing the best learning outcomes.
Key Takeaways
When you let employees set their OKRs, they are provided with the opportunity to explore how they can best support the organization. How to set effective individual OKRs starts with setting business goals. Effective objectives and key results should move the needle on business priorities while allowing individual development. Managers can help employees set OKRs for personal development to align with career goals. An essential way to ensure that everyone moves forward with purpose and direction to drive team success is by using carefully drafted OKRs with the help of an OKR expert.
Individual success in OKRs results in an engaged and motivated workforce. Your employees will be willing to go the extra mile to achieve their objectives and key results and ultimately contribute to the team and company success.
---