Blog
May 28, 2021
OKR Business Model: Goal Setting for Business Development
2 min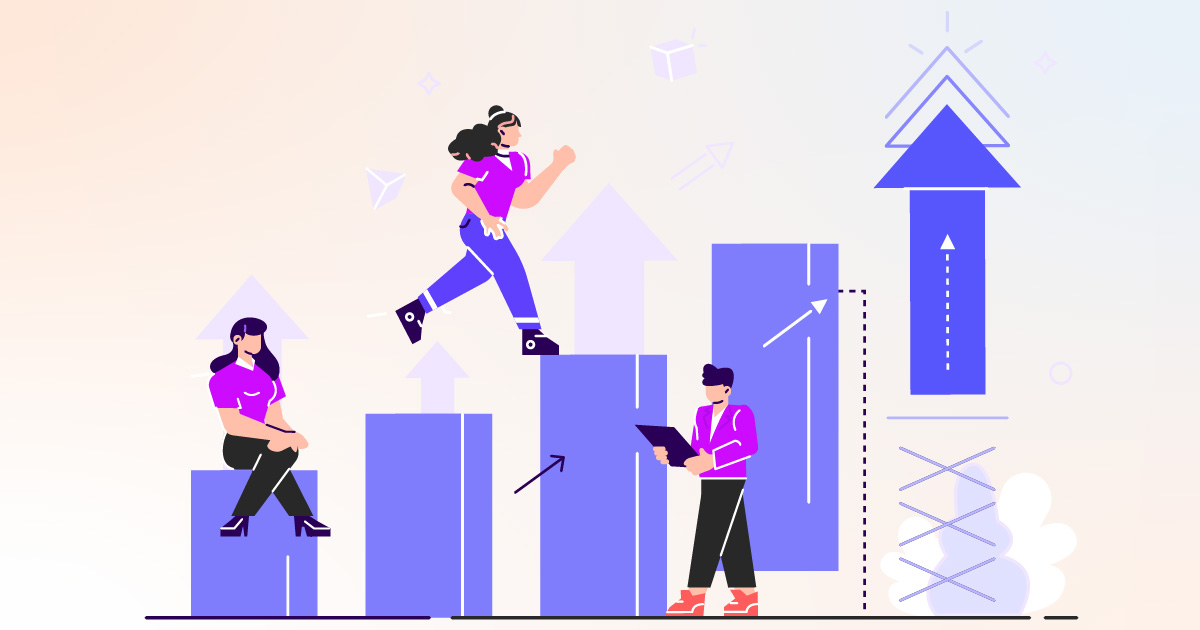 As the need for structured goal setting and performance tracking rises, more and more organizations are implementing the simple yet powerful Objectives and Key Results (OKRs) framework. OKRs are successful because of the fact these serve as an effective goal-setting framework that drives organizations to strategically move in the same direction and accomplish short-term as well as long-term goals. To attain success, organizations must focus on sustainable growth to scale faster and stay competitive. One way to achieve this is by adopting OKRs for Business Development teams aligned towards improving business growth, revenues, sales, etc. OKRs offer ample benefits to corporate leaders who crave to build an outcomes-aligned and performance-centric workforce. By leveraging the benefits of the powerful OKR framework, business leaders get the energy to plan, realign, and continually assess.
Organizations implement the OKR business model as an operating framework that helps grow and succeed. OKRs for business links the results of individuals and teams to the company's overall strategy, vision, and goal. If used effectively, OKRs help maximize business efficacy and growth by focusing on the company's priorities, executing an agile approach, and channelizing individual efforts towards achieving improved results.
Also Read: How are OKRs in Business Better than Traditional Approaches?
Implementing the OKR framework for business development helps boost growth through focus, innovation, and collaboration. Business operations are defined as day-to-day work, and OKRs focus on change in terms of what employees are doing and how they are achieving their goals. The OKR approach is simple and helps streamline business processes by following the step-by-step process-
Organizations set and prioritize objectives for a month, quarter, or a year
Every employee, as well as teams, define goals that are aligned to the company's overall goal, vision, and purpose
Employees collaborate with their managers to set clear objectives and link them to measurable key results
Key Results are defined as time-bound and quantifiable metrics that managers evaluate during weekly or monthly check-ins
Companies also adopt the right rhythm of feedback and review meetings to ensure transparency and accountability
Managers review individual OKRs and update them as per the changing company's priorities and individual progress
Realignment of goals and key results help bridge the gap between strategy and execution, thus unlocking performance and enabling business success
Also Read:OKRs in Business: Good OKRs Vs Bad OKRs
There are various OKR examples for Business Development teams that showcase the importance of OKRs as a goal-setting framework. An OKR example shown below defines the objective of expanding business in the European markets in the year 2021. At the same time, one key result may focus on meeting $100 Million sales targets while the other may include reducing churn rate by 10% to ensure success. The third key result may be increasing average deal size by upselling and cross-selling to unlock the potential.
Objective 1: Expand business to European markets by the end of 2021
Key Result 1: Meet global sales target of $100 Million
Key Result 2: Reduce churn rate by 10% annually with Customer Success
Key Result 3: Increase average deal size by 40% through upselling and cross-selling
Alignment, focus, agility, rhythm, transparency, and accountability are some of the superpowers that encapsulate the strength of OKRs as a goal-setting framework. So, introduce the top OKR business model for different verticals like Sales, Marketing, Business Development, Operations, etc., and ensure business success. Try Unlock:OKR and know how it can serve as the perfect OKR solution to meet your business needs. For more details about features and benefits, Book a Demo.
---