Blog
May 12, 2021
OKRs: 4 Key Things that Employee Goal-Setting Software Must Do
2 min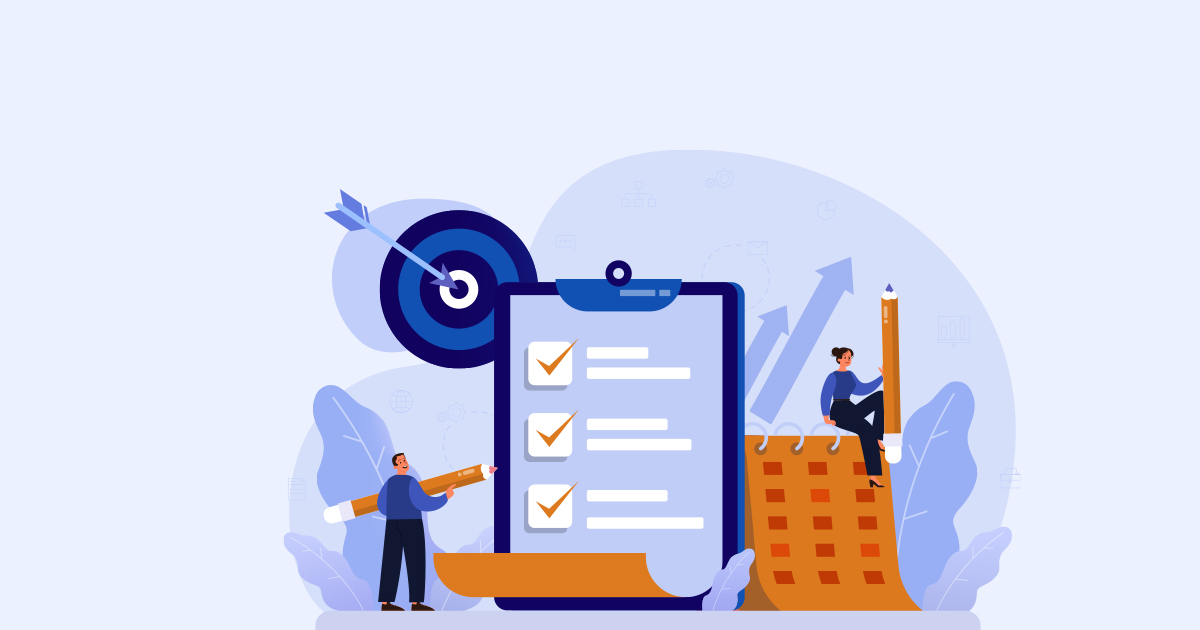 Every organization aims to grow faster and create a culture of discipline where its employees have the clarity of what objectives to achieve and what outcomes are expected. Objectives and Key Results (OKRs) follow a structured goal-setting process to align employee goals with the organization's priorities and achieve more consistent results. Though there are various ways to manage your objectives manually, this can be a daunting task to achieve the right outcomes. OKRs serve as a viable tool for organizations to boost communication, accelerate employee performance, and drive business success.
Whether a small company or a big enterprise, OKR implementation can prove beneficial in creating alignment across the teams, establishing the right rhythm, and executing the right business strategy. Whenever an organization feels that their employees are not working towards shared goals, business growth is still, and there is a need to drive the business outcomes, it is the perfect time to utilize the OKR software. Five important things that a powerful goal-setting software must do include-
Articulate the Right Business Objectives

OKRs help businesses to articulate a shared set of ambitious, meaningful, and result-oriented objectives. Once the goals are defined, the focus should be on how to achieve them within a given timeframe- be it a month, quarter, or year. For every objective, 3-5 key results are defined to chart your overall achievements. Results must be time-bound and measurable so that it is easier to monitor individual progress and timely update OKRs to boost performance and attain success.

Also Read: Using Objectives and Key Results to Attain Organizational Goals

Embrace Transparency between Employees and Managers

Transparency is yet another essential feature that OKR software must support. OKRs enable managers and senior leadership to keep track of employees' progress on their goals. Goal tracking is crucial to understand whether an employee moves in the right direction towards accomplishing the company's vision and purpose. Thus, the OKR management software imbibes a sense of transparency by allowing managers to review, refresh, and realign OKRs, thus driving collaboration, creating better alignment, and improving the overall performance.

Support Integrations to Create 'In the Flow of Work' Experience

The powerful OKR software seamlessly integrates with other tools that employees use every day, thus creating an 'in the flow of work' experience. The integrations with platforms like Slack, Jira, Teams, and others enable teams to engage more and focus on the goals that matter the most. Ultimately, the integration feature of the goal-setting software allows managers to automatically track employee progress, provide feedback in real-time, improve collaboration, and achieve more remarkable results.

Provide OKR Coaching to Attain Better Outcomes

Whether you are implementing OKRs for the first, second, or third time, OKR Coaches can help to transform your business. Several companies seek the help of an OKR Coach or an Engagement Manager to provide valuable training sessions to identifying success mantras to achieve the goals faster and achieve improved results. As a result, this enables employees to utilize the OKR framework and unlock their true potential.
Also Read: OKRs in Business: Good OKRs Vs Bad OKRs
Undoubtedly, there is no need for hundreds of features to execute OKRs in business. All you need is to embrace the critical OKR software features such as prioritization, alignment, OKR coaching, transparency, and integration to work flow to unlock business success. Unlock:OKR is a powerful goal-setting software that can cater to your pertinent business requirements. To know more about the features and benefits of the powerful tool, you can Book a Demo.
---