Blog
April 25, 2022
OKR Superpowers – Part 1 – Focus
3 min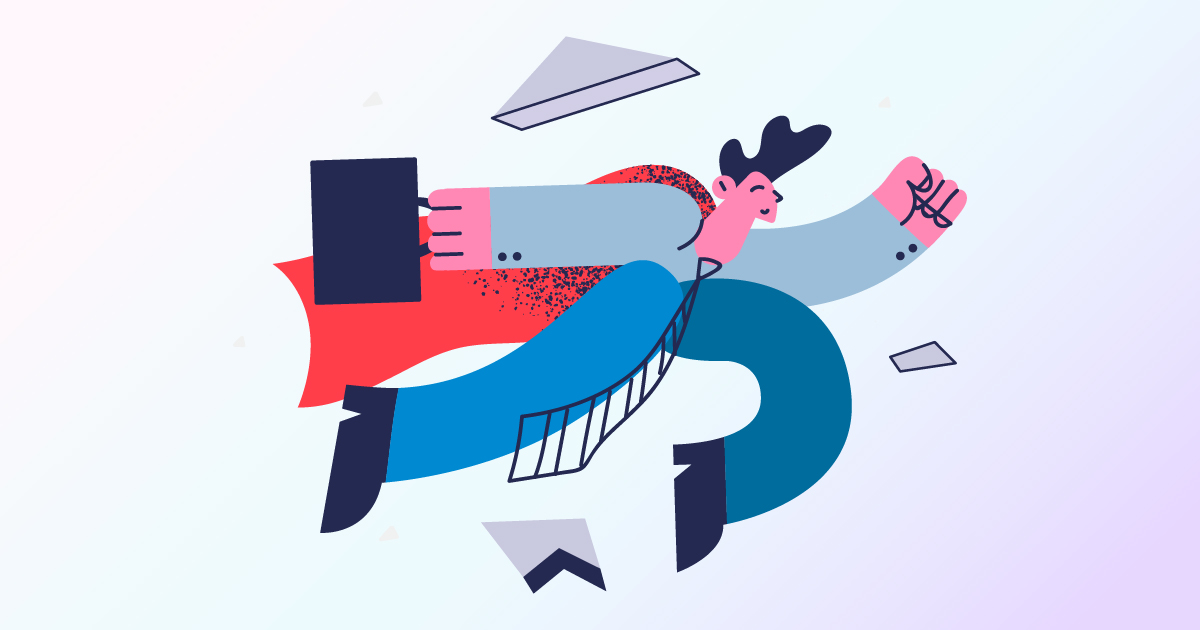 One common yet significant thing that connects business and life is the focus. You must focus on and prioritize what must be achieved by your business. High-growth organizations focus on goals that make a difference, one such organization being Google. Objectives and key results framework equipped Google to focus on business priorities while recognizing the metrics that measure progress towards the set goals and quantifying the impact of the progress. Teams at Google found what they required the most to think big, achieve alignment across the organization, and implement their ambitious plans.
You should publicly commit to objectives and key results and stay steady as a leader. Our four-part series on OKR Superpowers helps leaders decide what matters the most to them, giving their teams a compass and an assessment baseline in the way of OKRs. Begin with Focus and Commitment to Priorities – the first superpower of OKR.
OKR Superpower 1: Focus
How to Leverage Focus for my Organization?
1. Define Your Organization's Vision and Set Goals
Begin with setting organization-level OKRs to set your focus right. The executive team must decide on the vision, i.e., where they want to see the organization and commit to achieving that vision. A mission statement is a good starting point to act on the organization's vision. Your organization's mission statement should be such that it connects your offerings. For instance, LinkedIn has a simple mission of connecting professionals across the globe to make them more productive and hence successful.
2. Communicate Top-line Goals
Now that you have set your vision and have a mission statement to realize that vision cascade it down to your team(s) through open, clear, and transparent communication. As a leader, your communication must be constant and consistent. You must convey to your staff the what and why of your organizational OKRs. Employees thus feel motivated while learning how their individual goals aid their organization in accomplishing the higher-end goals. When you are a company's CEO, you should say, "This is what we're doing, and then you have to model it." Because if you don't model it, no one's going to do it, said Bill Campbell, Former CEO of Intuit. An OKR management software comes to your rescue to model what you are doing or plan to do.
3. Ensure Objectives are Closely Knitted to Key Results (KRs)
You can only focus on accomplishing your organizational goals when these goals or objectives are closely tied to key results (KRs). Objectives and key results are the two critical components of goal setting. While objective helps you to set the vision, key results aid you in working towards realizing that vision. Through KRs, you can track your progress and check if you are deviating from your set objectives. Metrics like percentage, currency, numbers, or a simple yes and no aid you and your contributors in measuring the OKR progress. Ensure you have a thorough objective and tie that to 2-3 KRs, as more of them distracts you from the objective. Besides, an essential aspect of the objectives and key results framework is not having more than 3-5 OKRs per team per quarter.
4. Be Clear in Your Timelines to Accomplish the KRs
If you fail to have a clear-cut time frame, focus, and commitment, go for a toss. Having a clear timeline helps you to stay focused and move things forward. There is, however, no thumb rule for OKR cycles. It might be a few weeks for some organizations, while quarterly or yearly for others. It is good to be clear with time cycles for your team. Only then can employees successfully achieve their KRs. To survive the challenging dynamic business environment, you may choose a quarterly time cycle in your goal-setting software.
5. Pair KRs that Measure Effect and Counter-Effect
In his book, "High Output Management," Andy Grove, the OKR inventor, depicts pairing key results as measuring "effect and counter-effect." By pairing quality and quantity key results, you can strengthen your OKRs. When you emphasize quantitative deliverables more, you quickly lose sight of qualitative ones. Your KRs must target both quantity and quality goals. One-dimensional objectives and key results are risky. Here's a well-rounded strong OKR example that couples quality and quantity key results.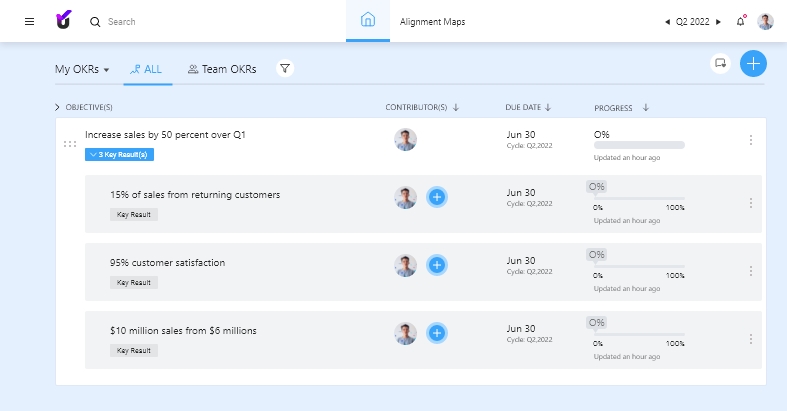 An Example of a Strong OKR with Paired Quantity and Quality KR
6. Leave Room for Errors(s)
If you identify and realize several weeks into the goal that your key result was not set right, there is nothing to worry about. KRs may be altered or even scraped during the OKR cycle. The bottom line is your key results must align with your objectives. Besides, KRs should be specific, concise, measurable, and actionable. Only then can completing your key results leads to attaining the end goal.
7. Be Prudent in Goal Setting
Success only comes to those who turn their intention into attention. Your attention should be on setting up a smaller number of goals. In an ideal goal-setting framework, less is more. Only when your goal setting is prudent and pragmatic can you stay focused. Choose your objectives wisely, curate them sternly, and enlist those that demand special attention from your end. Goal setting software enables you to set goals right, helping you focus on those you must achieve, well-aligned with your organization's vision and company-level OKRs.
Key Takeaways
Prioritize, prioritize, prioritize. Unless you focus on the most critical business priorities, you won't ever accomplish your organizational goals. Focusing on everything implies focusing on nothing. Besides, writing quality OKRs makes objectives clear, and you learn where, as an organization, you are spending time, effort, and resources. Your KRs should be trackable and measurable. Only then can you stay focused. Attention is another way for organizations to focus and commit to priorities. In Hawthorne Studies, when people are paid attention in an organization, they perform higher. Set clear expectations and expect results to be regularly updated, creating the leadership behaviors to hold individuals and teams accountable and even reinforce such behaviors. When people pay attention to something regularly and are reinforced to behave in a specific fashion, they become highly engaged and spend more time and attention on attaining the planned objective. Accelerate your strategic performance and gain the focus you aspire for with the help of our OKR coach.
Stay tuned for OKR Superpower – Alignment, part-2 of this blog series.
---