Blog
November 15, 2021
Objectives And Key Results For Cross-Functional Teams
3 min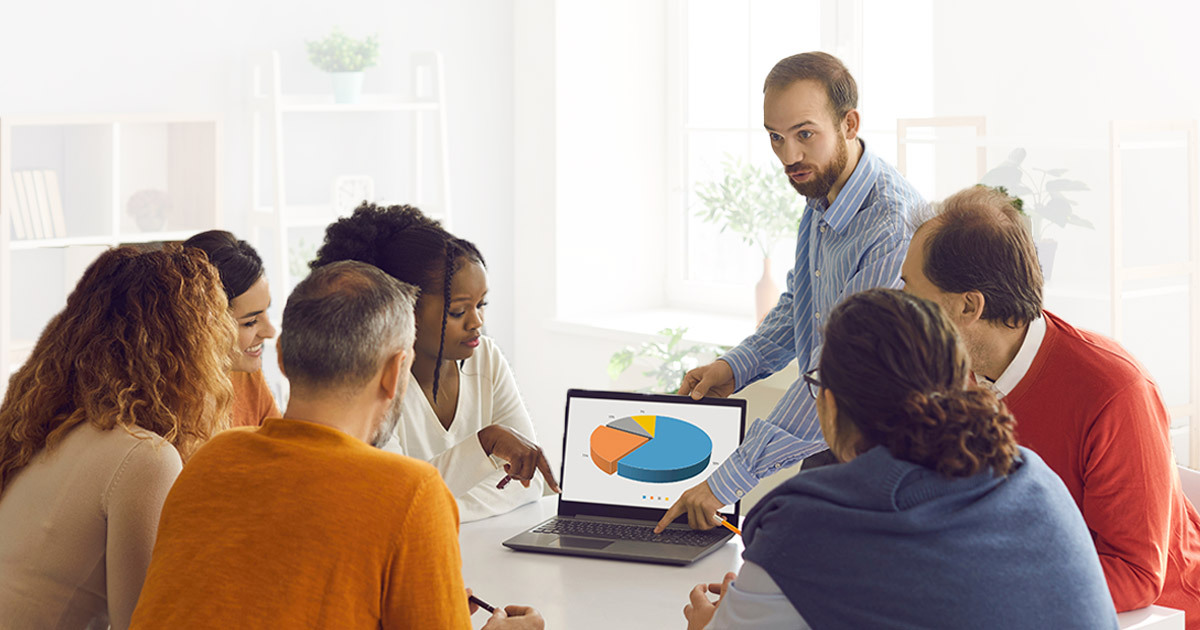 By now, we know how OKRs are effective in creating an environment where employees can work with purpose. Objectives and Key Results focus on priorities, reduce silos, increase collaboration, build alignment and maintain accountability.
However, a Stanford professor reported 75% of cross-functional teams to be dysfunctional in a detailed study of 95 teams across 25 leading organizations, in an HBR article.
Often, cross-functional teams become disjointed on what they are working towards, as there is no collaboration across departments and OKRs get confined to each department. The siloes tend to perpetuate themselves, for instance, engineers may not work well with designers, and so on.
The truth is that most work in an organization, especially towards achieving important goals, requires cross-functional collaboration. And that's where Objectives and Key Results for cross-functional teams come to the rescue.
What are cross-functional team OKRs?
Shared Objectives and Key Results for cross-functional teams is an advanced strategy in the OKR methodology that facilitates creating alignment across cross-functional teams within an organization.
Read More: OKR Methodology for Cross-Functional Teams: Key Benefits
Best practices for setting Objectives and Key Results for cross-functional teams
#1. Discuss other teams' priorities and goals
When implementing OKRs in a cross-functional team, the key to attaining success is by knowing other teams' priorities and goals.
Clarity and transparency on shared OKRs between different teams allow inter-dependent colleagues to be more effective asynchronously. Also, you don't have to rely on meetings and 1:1 conversations to understand what matters.
Leaders can leverage cross-team collaboration to have a better understanding of the progress and ultimately make more informed and strategic decisions.
#2. Use an OKR software to track progress
An OKR software lets you view, follow and maintain individual and cross-team OKR goals with ease. An OKR template provides information about the past OKRs so that you can avoid mistakes made previously.
The OKR implementation software makes communication faster and easier between different teams. The dashboard for the smart goal setting framework maintains records that can be accessed by the higher hierarchy at any time.
#3. Be adaptable
Successful remote teams have learned to adapt to change quickly. Whenever there is a business change, the OKR goal-setting framework enables organizations to realign goals and restructure business operations. In the OKR business model, organizations can easily tweak their goals as per changing business priorities to achieve desired results.
Read More: How to Improve Business Agility with OKR Goal-Setting Framework?
#4. Map out the actual work
Many leaders believe that OKRs are set by top executives and cascade down throughout the organization. However, OKRs and strategic goals are seldom limited to only one part of an organization.
From the beginning, there should be an approved budget, charter defining the priorities and the desired outcomes along with wireframes. This gives leaders a better view of the progress (or the lack) towards goals.
#5. Constant communication
In absence of visibility of the OKRs, the team would fail to communicate the progress of the OKRs, leading to misalignment. Shared Objectives and Key Results for cross-functional teams ensure that teams discuss progress regularly. As a result, you can reduce the likelihood of last-minute bottlenecks and resolve them quickly.
The key benefit of the OKR framework for cross-functional teams in small and large companies is reducing silos by identifying how to reach goals collectively.
#6. Less is more
A common issue with the OKR methodology is the overwhelming number of goals set over time. When teams work in isolation without collaboration, they are likely to work towards achieving the same goal. Cross-functional team OKRs simplify and minimize the number of OKRs for your organization.
When setting cross-team OKRs, remember to reduce the net number of OKRs. On one hand, each team that supports OKRs might have its specialties, but they are ultimately trying to get the same key results.
#7. Maintain accountability
Once you have a cross-functional team OKR plan in place, gain commitment from all the people involved and hold them accountable. A great way to keep things on track and prioritized is by setting expectations upfront.
Putting it together
Shared Objectives and Key Results for cross-functional teams are an easy way to manage expectations and create alignment between different teams.
Be it alignment between two engineering teams with interdependencies or between the marketing and product teams, if you have an objective that needs more than one team to work on it, shared OKRs are extremely important.
An OKR software such as Unlock:OKR provides a centralized dashboard to track goals, prioritize objectives and support-cross functional collaboration.
---